The Ins and Outs of Running a Jewelry Repair Shop: An Interview with a Shop Manager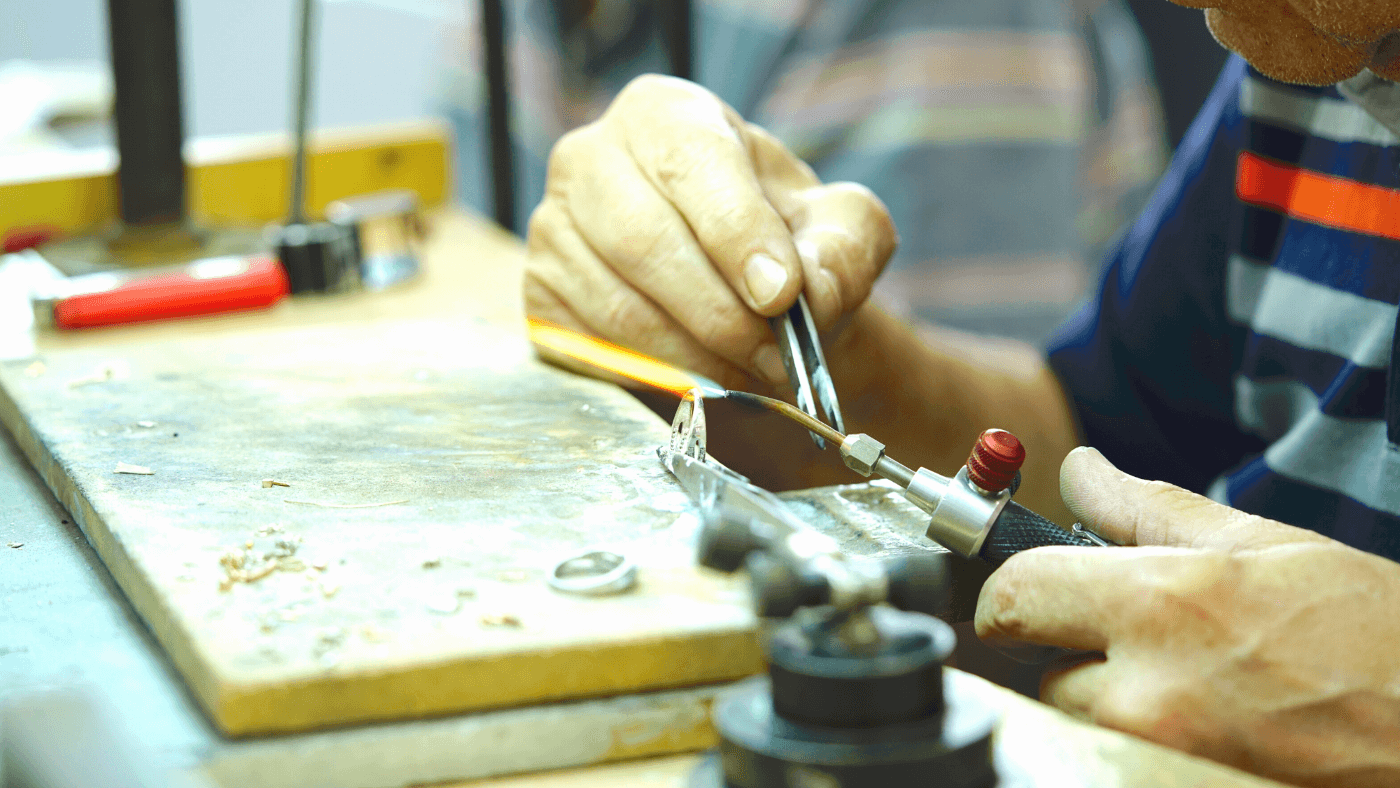 Running a jewelry repair shop is a big undertaking involving a lot of moving parts (literally and metaphorically). We sat down with Ara, Shop Manager at Quick Jewelry Repairs' Long Island City workshop, to get his unique perspective on jewelry repair shop management. Read on to learn from Ara's deep knowledge and hard-earned advice accumulated during years of experience operating a successful jewelry repair shop.
How do you begin to run a jewelry repair shop?
First and foremost, focus on the repair shop setting. "You want to make sure that your employees are in a good working environment in order to produce good quality repairs," Ara says. This includes things like comfortable and ergonomic chairs and workbenches, air conditioning or heating (depending on the time of year and location), and enough space to get everything done — this job involves a lot of hands-on work! A space that's designed to properly and safely perform repairs is essential.
Ara also believes there should be specific rooms for different jobs, and a piece of jewelry should move through each one in sequence. "There's metal working, setting, polishing, washing, and inspection," he explains. Every room must be thoroughly stocked with the right tools and equipment for the job being performed there. Depending on your shop specialty and the room you're equipping, you might need to source setters, microscopes, polishing wheels, pliers, and soldering irons with the right melting capacity from jewelry tool suppliers.
Ara points out that you've got to have both the best equipment for the job and enough tools for everyone working on repairs to make smooth progress without holding each other up.
What makes a good jewelry repair shop?
"I always try to use shortcuts," Ara says. Although you should never shortcut repair quality, there are smart ways to increase production quantity while keeping standards high. According to Ara, compared to 20 technicians working slowly, a team of seven highly skilled technicians can produce the same quality and volume of work in the same amount of time. Finding the right blend of skill, experience, and teamwork helps you produce more repairs in less time, at a lower cost to your business.
To that end, Ara says that hiring the right people is critical. "Communication is so important," he says. "If people don't ask questions, mistakes can happen." Teamwork is also crucial in the repair shop, because everyone relies on each other to do their best quality work as a piece moves from one phase to the next. When a repair shop works like a well-oiled machine, repairs are completed seamlessly and efficiently.
So how do you find the right people for your repair shop?
Ara recommends hiring jewelry repair technicians with no less than five years of experience. (Technicians with less experience but great promise should go through mentorship or apprentice programs). He also notes that training is different from skill: "They might have gone to school, but it's more important to find someone with hands-on experience." Ara says that a lot of his employees are referred to him by other industry professionals, but sometimes an internet job listing will attract the right technicians.
Just like with any other skill-focused job, multi-step interviews are necessary in order to make sure each candidate has a high level of competency. "First, they go through an interview and we check references," Ara says, "and then they have a bench test." A bench test is a chance for technicians to demonstrate their expertise by working on an item of jewelry. "It could be resizing, setting the stone, or soldering," he says. Then Ara will evaluate their work to determine if it's up to par. Hiring technicians with experience, expertise, and great communication skills helps a shop operate successfully.
Any other advice?
"Mistakes will happen," Ara says, but it's not the end of the world. It ultimately means more time spent on a repair, but if you have the right tools, the right people, and the right teamwork, most mistakes are easy to fix and they can also be learning opportunities.
Ara also recommends finding a software solution that can help your jewelry repair shop run smoothly. Ara's team uses Reshyne to cut down on miscommunication and avoid lost orders or incomplete customer information. Reshyne keeps all of Ara's order information in one place, making sure everyone is on the same page and facilitating communication between his shop, store owners, vendors, and customers. Most of all, Ara loves how Reshyne's platform makes placing, receiving, and assigning orders across his team as easy as can be.

Just like your polishing wheels, streamlining your business with a digital platform can help your jewelry repair shop operate at its very best. Schedule a demo today to see what Reshyne can do for you.