Jewelry Repair Management Software You Can Count On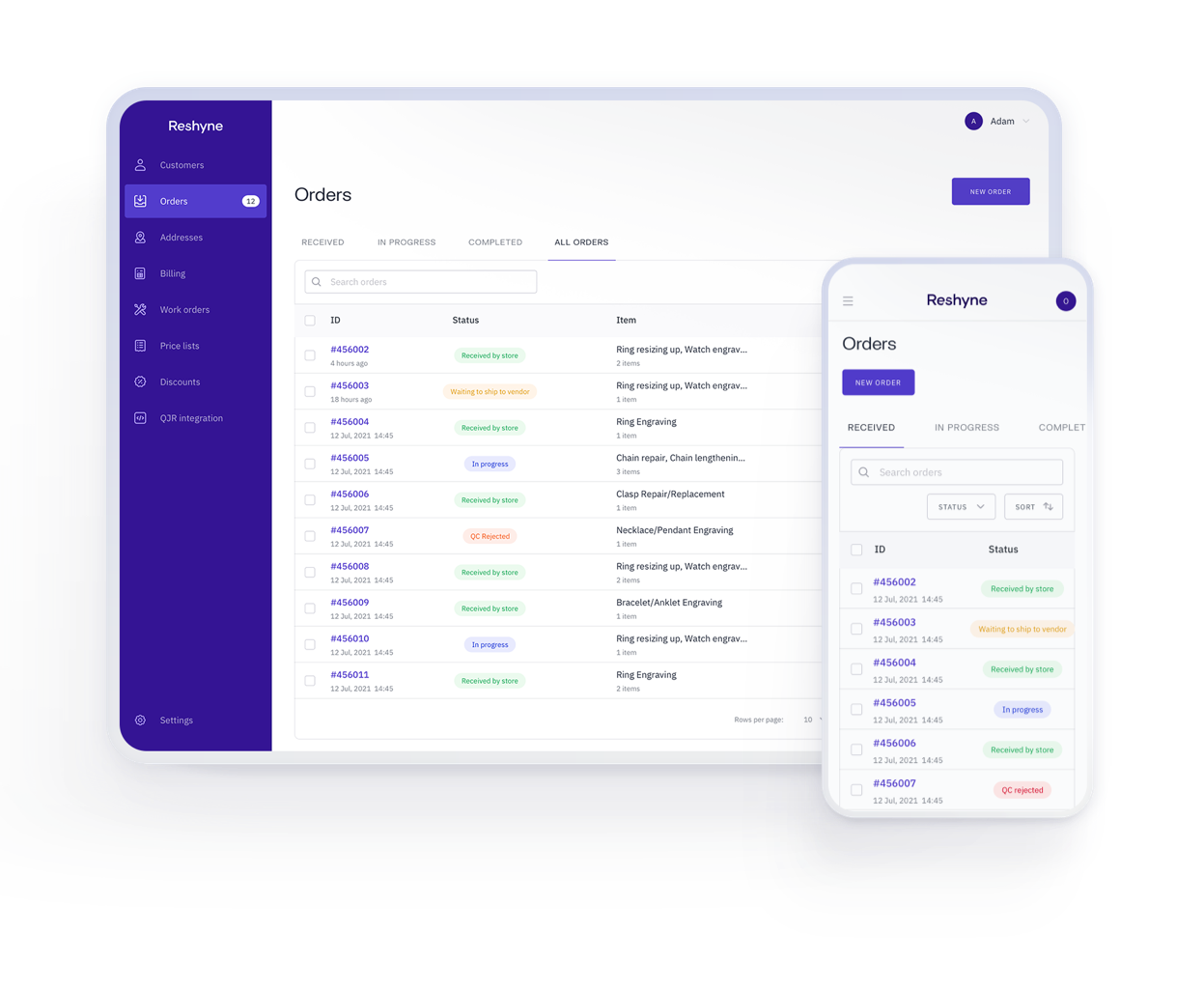 Running a repair business can get complicated. From tracking progress and assigning work orders to managing shipping and customer communications, there's a lot to keep in mind. That's where Reshyne comes in. Reshyne is a management tool dedicated to helping you offer efficient repair services, worry-free.
Reshyne integrates seamlessly into your existing operations, so you don't need to worry about new tech to learn or a complicated new process. The platform allows customers to request repair services through a branded interface, and allows you to update them on repairs in real time. Here's how it works:
Take an order
Reshyne comes preloaded with a full menu of repair services. We used customer data from our 40+ years in the jewelry industry to inform the menu, ensuring your customers have access to the repair options they need.
Of course, you can customize the service menu based on the repairs your business offers. Here's the best part: the entire service menu is set up as a digital storefront that carries all your company branding, so your customer has a great, seamless experience.
When a customer submits a repair request, Reshyne automatically generates a unique sales order. We make sure your team doesn't miss anything because the entire process is automated—there's nothing manual about it!
Then Reshyne generates a shipping label for the customer. All they have to do is print it out and pack up their piece for repair.
Get payment
Because Reshyne generates unique sales orders for every purchase, you can collect customer payment upfront. Or, if you choose to provide repairs to your customers at no charge, you can select the option to waive fees when you set up your menu of services.
Get to work!
Once payment is accepted, Reshyne converts the sales order into a work order. Rest assured, this is an automated process as well. All the repair-specific details are included in the work order so nothing gets lost in translation.
The Reshyne vendor interface allows you to assign work to your in-house repair team, external vendors, and fulfillment partners. Whether they're in-house or outsourced, your repair team provides status updates each step of the way. This allows you to manage workflows, streamline repair scheduling, and improve lines of communication.
Top-tier customer experience
Reshyne is designed with your customers in mind. The interface is easy to use and makes requesting a repair a breeze. Customers log on themselves, without having to contact a customer service representative or sales team.
Plus, in the same way that the vendor system provides live updates for you and your team, your customers can also check on their repair status at any time.
Stats to check on your progress
As you receive repair orders, Reshyne tracks all your data in a convenient and powerful dashboard that gives you an overview of your business at a glance.. We've included sales stats, orders per day, total service requests, and more.
Long-lasting relationships
Reshyne helps your company foster customer relationships well beyond the initial sale. Making it simple for your customers to request repairs and easy for them to stay up to date gives them confidence in your business. Instead of treating the repair process as a pain point, Reshyne helps you turn it into an asset.
Let's get Started 👇
Schedule a demo today!