How to Use Jewelry Packaging as a Marketing Tool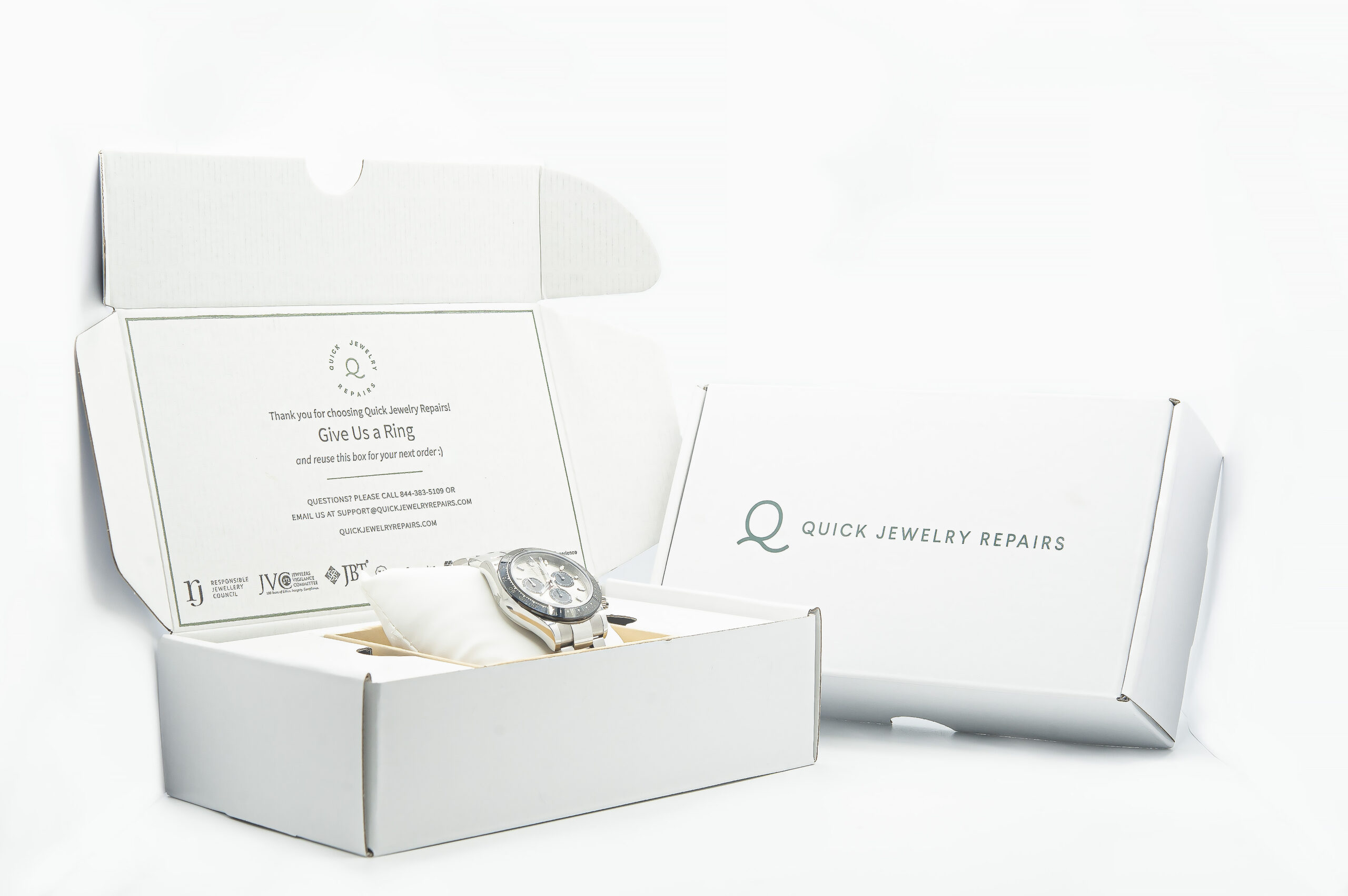 The quality of your work is critical for customer satisfaction, but there are other steps along the way that give you an opportunity to make a lasting impression.
A customer's journey through the jewelry repair process starts when they make an order and ends when their item returns safely to their door. This last step gives you one final opportunity to make a lasting impression. The way you package orders will make customers that much more delighted to unwrap their beautifully repaired jewelry.
Whether you realize it or not, your packaging can be a major multi-tasker. Here are all the things it can accomplish for your customers:
Protect the product. Packaging that's sturdy enough on the outside and gentle enough on the inside will withstand the potential ups and downs of the jewelry's journey home.
Communicate your brand identity. You could theoretically put repaired jewelry in a generic mailer from the post office and send it off. As long as the item reaches its destination safely, there's technically no problem. But packaging is an opportunity to make a statement and increase the chances your customer will remember their positive experience with you the next time they need to have an item repaired or recommend a reputable shop to someone they know.
Create pleasant experiences. Have you heard of wrap rage? It's that angry, agitated feeling that arises when you have a hard time opening a package. This struggle can leave a sour taste in people's mouths, when all they want is to lay eyes on their jewelry. Be sure to think through the experience of opening anything you send to your customers. It should be as straightforward and stress-free as possible, without sacrificing the security of the jewelry inside.
On-box Branding
The outer box will be the most vulnerable to damage during shipping, so it doesn't make sense to spring for foil finishes or other fancy touches here. Still, adding something unique to your outer packaging will give your customers the immediate thrill of seeing a new delivery on the front porch and knowing exactly what's inside, whereas a nondescript kraft cardboard box will leave them wondering what they ordered recently.
You can contract with shipping companies to add your logo in a prominent spot on the outer box, or you might prefer to make a custom stamp that you add to each box yourself before shipping it out.
Branded Inner Layers
Once you get to the inner layers of packaging, your business's personality can really start to shine through. You don't necessarily need to emblazon your logo on every available surface in order to create a packaging experience that's distinctive to your business. Think instead about using materials that reflect the spirit of your brand.
A velvet pouch with a satin ribbon drawstring will convey a very different aesthetic than an open-weave cotton pouch with a drawstring made of yarn. Earring cards made of leather (or something that has the appearance of leather) give a different impression than ones made of textured paper. See if you can find creative ways to incorporate any materials or mementos that express your business's identity, and consider using your brand's color scheme whenever possible. Consistency is key.
As another option, more and more businesses are using custom tissue paper in their shipments. The tissue paper adds another protective layer to the product, and if the paper features your logo or another visual cue that signifies your business, it's one more way of cementing your business in the customer's mind.
If you have any need to secure part of your jewelry packaging with tape, why not also use a logo sticker? This little addition is one of the easiest ways to add a personal touch to your packaging, so if these other suggestions feel out of reach at the moment, logo stickers are a great way to get started.
Include thank you notes, marketing inserts and gifts!
A little thank you note can go a long way. Think of simple ways to let your customers know that there are real people running your business. It takes very little effort to slip in a notecard with your shipments. This might come in the form of a business card with a handwritten greeting on the back.
You could also consider printing cards featuring your branding with a discount code your customer can use on a future order. Or use a note to drive your customer to take a specific action, like following your social media accounts, asking for a review or referring a friend for a discount.
For extra bonus points consider including some swag, some creative ideas could be magnets, stickers or even customized car air fresheners. A well designed jewelry package with the right messaging can be a powerful way to promote your brand, improve your customer experience and channel even more business.
***
Customizing your packaging isn't a requirement, but that's exactly what makes it such a good idea! Don't miss this easy opportunity to set your business apart from the rest, leave a lasting, positive experience with customers.
Looking for another way to make a big impact? Reshyne's a great way to go. We're here to help you implement and manage online jewelry repairs. Schedule a demo today.