The Benefits of Using Cloud-Based Jewelry Software
When you're running a jewelry business, you've got a lot on your plate. Creating new designs, managing inventory, implementing marketing strategies, plus all of the little fires you put out in a day. Instead of spending all your time and effort on operations, using cloud-based jewelry software can lighten the load. With the right software solution, you can dedicate your efforts to high-level tasks instead of worrying about letting the day-to-day fall through the cracks. In this article, we'll explore the benefits of cloud-based jewelry software.
What Is Cloud-Based Software?
Cloud-based software refers to platforms and applications that you can access over the internet. Instead of installing and running software on a local computer or server, the software and its data are stored in the cloud, or on a network of remote servers. This allows users to access the software from anywhere and on any device, without having to download, install, or manage the software locally. The cloud-based software is managed and maintained by the vendor, which means that users don't have to worry about hardware maintenance, software patches, or data backups.
Cloud-based software is revolutionizing the way the jewelry industry operates. Jewelry brands can use it to manage inventory and sales more efficiently, keep track of customer data, and analyze trends to inform future decisions. Additionally, cloud-based software enables jewelry brands to scale their operations without worrying about hardware limitations or IT issues. Because the system is managed and maintained by the provider, jewelry brands can focus on their core business activities and leave the infrastructure to the experts. Using cloud-based software, jewelry brands can provide better customer service and respond quickly to market changes, leading to sustained business growth.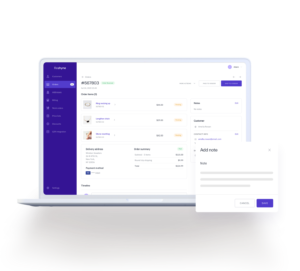 6 Ways Cloud-Based Jewelry Software Can Benefit Your Business
Implementing cloud-based jewelry software can help jewelry brands streamline business operations. Here's how:
#1: Accessibility
With cloud-based jewelry software, everyone on your team can log in to your system from anywhere they have an internet connection. This allows for greater flexibility and mobility in managing your business, and unlocks the option to focus on e-commerce instead of exclusively operating as a brick-and-mortar retail shop. Today, many jewelry brands build their entire businesses selling direct-to-consumer through exclusively online operations. It has also become important for employers to support remote and hybrid work; cloud-based jewelry software allows you to operate your business from anywhere, keeping your team flexible and poised for growth.
#2: Cost savings
Cloud-based jewelry software also introduces significant cost savings opportunities that can have a swift positive impact on your bottom line. Firstly, cloud-based software eliminates the need for expensive hardware and IT infrastructure rollouts. This reduces up-front costs since there is no need to purchase and maintain servers, network equipment, or other hardware.
Additionally, cloud-based software often operates on a subscription model, which gives jewelry businesses the opportunity to pay for the access and the features they need instead of investing in multiple licenses they may or may not use. Cloud-based software also reduces the need for in-house IT staff, since the vendor handles software maintenance, updates, and backups. These savings give you the opportunity to spend your budget where it really counts, like sourcing high-quality materials, running marketing campaigns, or expanding your collections.
#3: Scalability
Cloud-based software gives businesses the ability to adjust their usage based on changes in their operations. The up-front investment required to implement traditional software locks companies into infrastructure regardless of whether or not they need it going forward, and it's a difficult process to add or remove features or users. Cloud-based software, on the other hand, makes it easy to scale up or down as your business needs change.
For example, if your business grows and you need to onboard new employees or locations to your system, you can easily scale up your cloud-based software to accommodate your expansion. If your business goes through a slower period or pivots to a new model, you can always scale down to reflect these changes without incurring unnecessary tech expenses.
This scalability also makes it easy to make changes to your products or services. If you decide to introduce new offerings or discontinue existing ones, you want software in place that makes it easy to adjust accordingly. Cloud-based jewelry software makes it easy to change your product listings or service offerings so your business runs smoothly through every growth phase.
#4: Collaboration
In order to work as a cohesive team, you need a platform that lets you collaborate in real time. A cloud-based platform enables simultaneous access so that communication is never siloed and work is never redundant. By creating a single source of information that updates for everyone in real-time, cloud-based jewelry software ensures that everyone on your team is accessing the same data. Unlike hardware servers, cloud-based software eliminates the need for on-premises updates or version controls, ensuring seamless collaboration no matter where your team is based.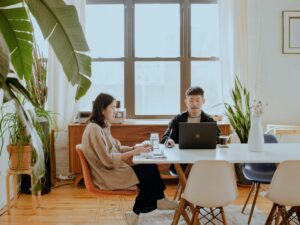 #5: Automatic updates
Running outdated versions of your software won't just slow you down, it's often a security risk. Cloud-based software is automatically updated by the provider, which means you don't have to worry about manually updating your software or missing important patches. For small to medium-sized jewelry businesses, the prospect of managing your own IT infrastructure can be daunting.
Cloud-based jewelry software eliminates that complexity and overhead, since the software provider ensures the platform is up-to-date, secure, and operating smoothly. This reduces the risk of security breaches and ensures that the software is running at peak performance. With cloud-based jewelry software, you can get more done without the headache of managing your IT infrastructure and mitigating security risks.
#6: Security
Processing and storing customer information is a crucial responsibility for any business. Security is a complex challenge when you're cobbling together a mess of tech tools, documents, and spreadsheets. With cloud-based jewelry software, you get access to built-in security measures that help you ensure your customers' data is protected while at rest, in use, and in transit.
This is especially important if your software includes POS capabilities, since regulatory compliance is a top priority. Keeping credit card and other payment information secure is absolutely critical, and data breaches are incredibly costly. By using cloud-based jewelry software, you'll have access to advanced security features ready out-of-the-box without having to staff an internal cybersecurity team.

Is your jewelry brand ready to implement cloud-based software tools? Reshyne is a first-of-its-kind, all-in-one, cloud-based jewelry software solution. Reshyne helps jewelry brands streamline operations, boost productivity, and support scalable business growth. When you're ready to take your jewelry business to the next level, schedule a demo to find out how Reshyne can help you get there.